The following guideline has been prepared for the authors, which provide the steps for the on-line submission of papers after their abstracts have been accepted.
 Tips:
Abstract acceptance letters have been sent to the contact authors whose abstract have been accepted via peer review. If you are a contact author, please check your email. Please contact us as soon as possible if you have not received the decision letter of your abstract.
Template of full paper could be downloaded by clicking this link.
 Deadline for Full Paper Submission is January 10, 2013
STEP ONE: LOG IN THE SYSTEM
 The authors could click the button on the left.

And log in the system with the email and password when you submit the Abstracts.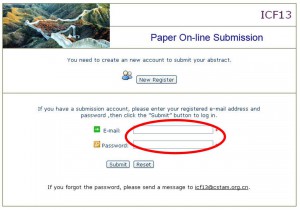 STEP TWO: TO VIEW THE STATUS OF THE ABSTRACTS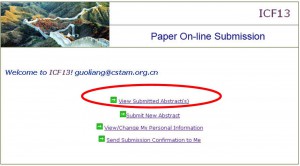 STEP THREE: UPLOAD THE PAPER
When the status has been changed into "Abstract Accepted", you could select the button "Upload" to submit your Paper.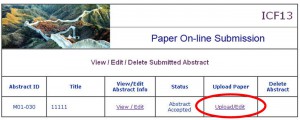 Please note:
1. The Paper which does not match up with the submitted Abstract in terms of title or names of authors will not be considered.
2. The Paper must be submitted as  a "Doc.", "Docx." or "pdf."  document.
3. To check the status of your paper, just click "Upload/Edit" button to see it.
4. To replace your paper, please upload the new version of your Paper directly (see the picture as below).